$1.95|$10.00
$15.99|$36.00
$139.99|$360.00
$569.99|$1,200.00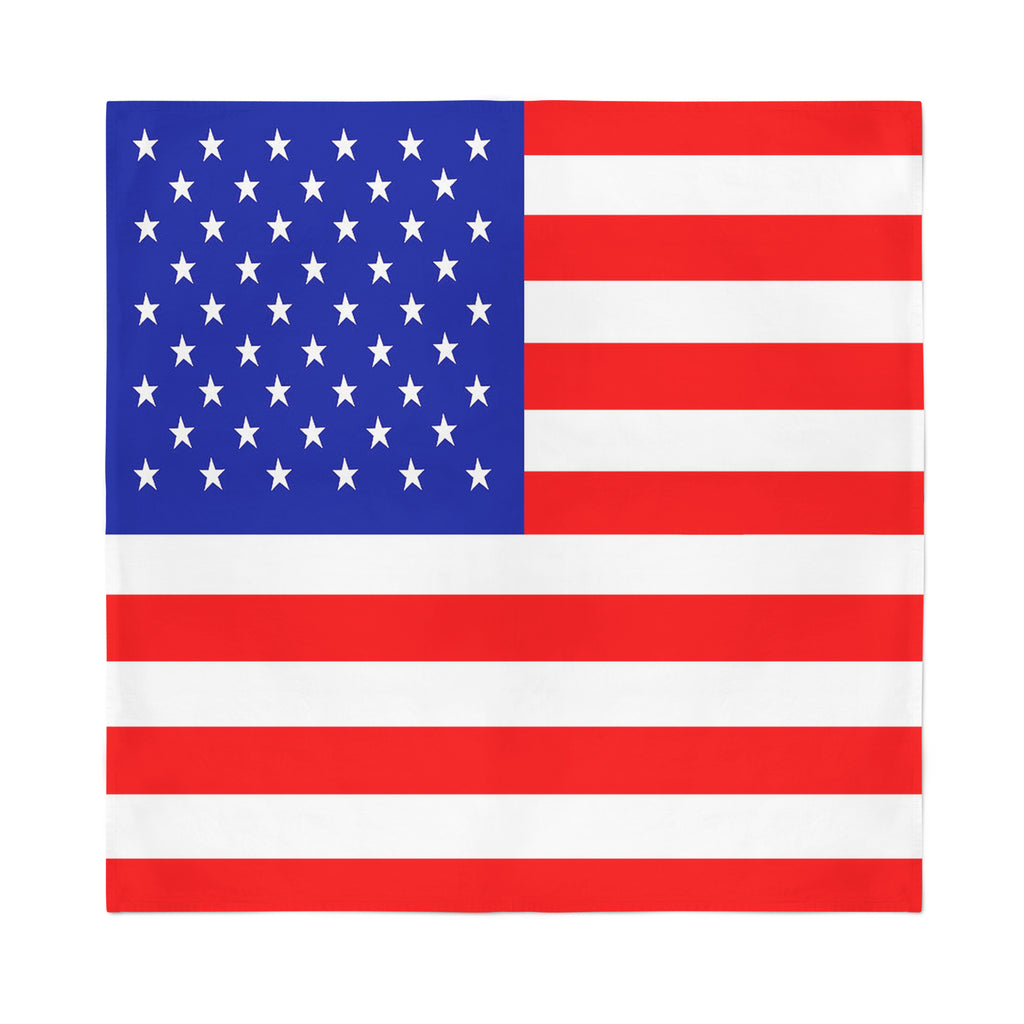 USA Bandana
The stars and stripes are a symbol of freedom and opportunity. Display your pride in the greatest country in the world by wearing a USA bandana.

Unisex, a USA bandana is popular with men, women and children of all ages.

A USA bandana isn't just cool and stylish but also practical. Tie it around your hair to keep it out of the way, use it to keep the sun off your head or neck, or cover your mouth and nose to keep out dust and pollution.

For those hot days, a USA bandana offers a way to pledge your allegiance while keeping cool.

 

Wear a USA bandana on your wrist, head or neck to absorb perspiration.

 

If it's really hot, you can dip your USA bandana in water and then tie it on for added coolness.

A USA bandana makes a patriotic bookmark.

Check the way the wind is blowing with a USA bandana.

Out hiking? Collect berries or wild greens in your USA bandana.

If you're hitting the beach, a USA bandana offers a great way to keep your belongings from getting lost in the sand.

Protect your specs sunglasses, or phone by wrapping them in a USA bandana.

Tie a USA bandana around your keyring to help it stand out.

If you've got a boo-boo, wrap up a few ice cubes in your USA bandana to create an instant cold compress.

Another first aid use of a USA bandana is a sling, bandage, or splint.

Have sweet, patriotic dreams when you use a USA bandana as a sleep mask.

A USA bandana makes a perfect team accessory, especially to play Capture the Flag.

If your bathroom door lock is broken or you're using one of those port-a-pots, hang a USA bandana from the handle to make it clear the space is in use.

When you're traveling, use a USA bandana to mark your luggage.

Transform a USA bandana into a bag, pillow cover, or wall art.

Keep your playing cards together and flat by tying them up in a USA bandana.

Wrap a gift in a no-waste USA bandana wrapper.

Your pets love this country too! Ben Furr-anklin and Garfield will love to wear a USA bandana. Bandanas Wholesale also carries them in pet sizes.
Get a USA bandana or any other color at Bandanas Wholesale. They come in a variety of styles, sizes and premier-quality fabrics. 
You choose:
100% cotton square bandana and dog bandana in paisley print

Regular Square Bandana (22"x22") or Regular Dog Bandana (30"x20") Triangle

Neck Gaiter Tube Bandana
USA Bandana
Description

USA Bandana

The stars and stripes are a symbol of freedom and opportunity. Display your pride in the greatest country in the world by wearing a USA bandana.

Unisex, a USA bandana is popular with men, women and children of all ages.

A USA bandana isn't just cool and stylish but also practical. Tie it around your hair to keep it out of the way, use it to keep the sun off your head or neck, or cover your mouth and nose to keep out dust and pollution.

For those hot days, a USA bandana offers a way to pledge your allegiance while keeping cool.

 

Wear a USA bandana on your wrist, head or neck to absorb perspiration.

 

If it's really hot, you can dip your USA bandana in water and then tie it on for added coolness.

A USA bandana makes a patriotic bookmark.

Check the way the wind is blowing with a USA bandana.

Out hiking? Collect berries or wild greens in your USA bandana.

If you're hitting the beach, a USA bandana offers a great way to keep your belongings from getting lost in the sand.

Protect your specs sunglasses, or phone by wrapping them in a USA bandana.

Tie a USA bandana around your keyring to help it stand out.

If you've got a boo-boo, wrap up a few ice cubes in your USA bandana to create an instant cold compress.

Another first aid use of a USA bandana is a sling, bandage, or splint.

Have sweet, patriotic dreams when you use a USA bandana as a sleep mask.

A USA bandana makes a perfect team accessory, especially to play Capture the Flag.

If your bathroom door lock is broken or you're using one of those port-a-pots, hang a USA bandana from the handle to make it clear the space is in use.

When you're traveling, use a USA bandana to mark your luggage.

Transform a USA bandana into a bag, pillow cover, or wall art.

Keep your playing cards together and flat by tying them up in a USA bandana.

Wrap a gift in a no-waste USA bandana wrapper.

Your pets love this country too! Ben Furr-anklin and Garfield will love to wear a USA bandana. Bandanas Wholesale also carries them in pet sizes.

Get a USA bandana or any other color at Bandanas Wholesale. They come in a variety of styles, sizes and premier-quality fabrics. 

You choose:

100% cotton square bandana and dog bandana in paisley print

Regular Square Bandana (22"x22") or Regular Dog Bandana (30"x20") Triangle

Neck Gaiter Tube Bandana