This is not an easy question to answer. Because there are as many ways how to tie a bandana on a dog as there are colors and sizes in our bandana lineup. Speaking of size, dogs come in so many sizes and shapes it is hard to define the 'best' way to add a bandana to a dog. Especially if Fifi is new to wearing a bandana. Not all dogs like to play dress up, and an active dog will soon find a way to turn their bandana into a chew toy. A single-use one.
Therefore, get your pal used to having a piece of cloth around their neck. Fold a square bandana, preferably an old one you no longer treasure, into a triangle. This is done by laying the bandana flat, and bringing one corner diagonally across to the other. Then quickly place the triangle under Fido's chin, and tie at the back of his neck with a single overhand knot. Step back, and see what happens.
What happens depends on the nature of your dog. If you have trouble putting his collar on, or the leash, then he will also need time to become accustomed to wearing a bandana. Luckily, most dogs know the leash means play time, and walkie-walkie. If this is the case, finish the knot, and you're done. A square stays snug and tight, until you are ready to untie it.
If you find the knot unsightly, then tuck the ends under and over a few times, for a seek look. However you chose to tie the bandana, be sure to slip two fingers between the bandana and your doggie's neck. Too tight is a no-no. Choke chains are only for training purposes!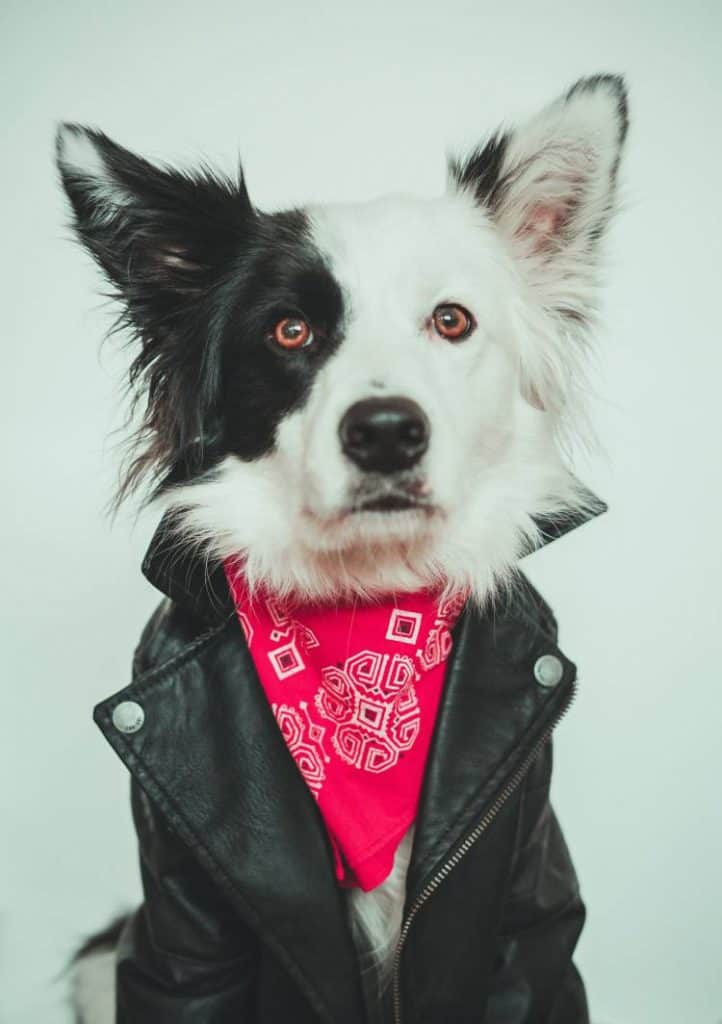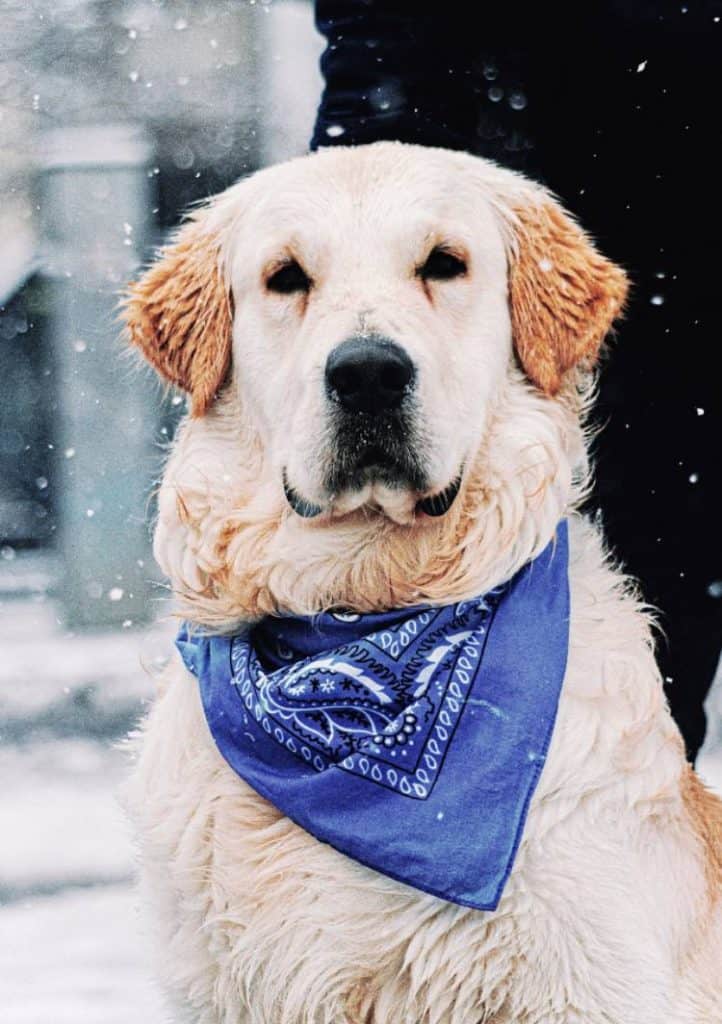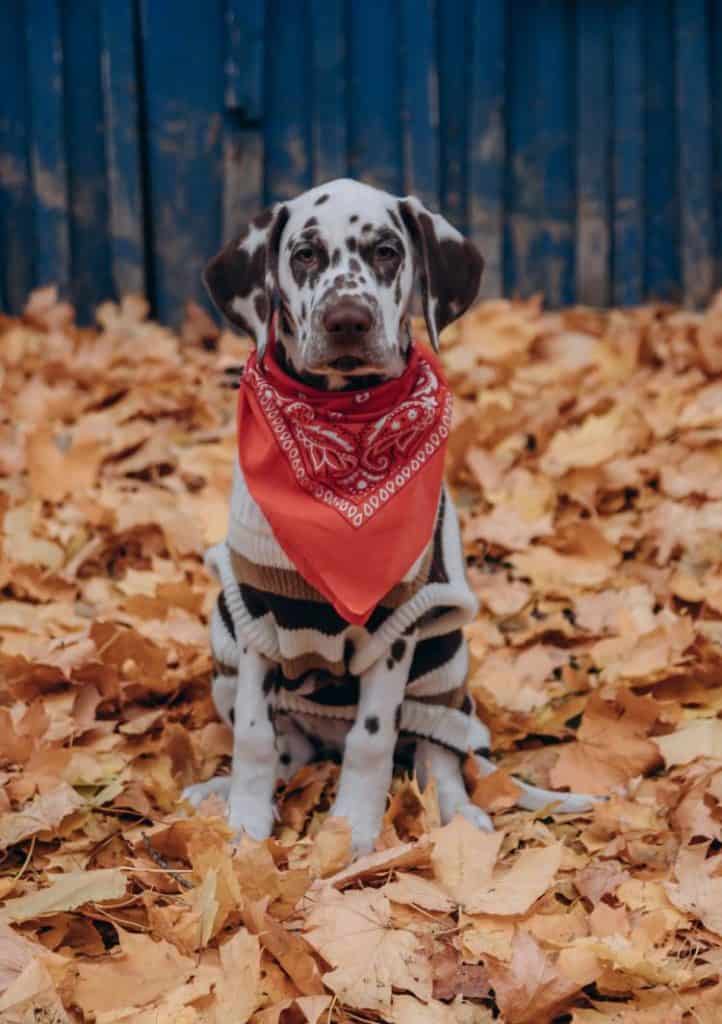 How to make a dog bandana
To make a functional DIY dog bandana, we suggest you check out the video above made by Spoonflower along with their free dog bandana template.
There are two ways how to tie a bandana on a dog. One is to buy a yard of fabric, cut it into squares or triangles, get out the sewing machine, the iron, and the ironing board. . .
The other way is to shop in the comfort of your home for dog bandanas. By going on line you open up a world of choices, ones you never dreamed of. So many colors, and sizes, and shapes! All designed and crafted with pets in mind. We carry a large selection of pet bandanas. They are packaged by the dozen, and priced for less than that yard of fabric. You save both time and money this way, and can spend both on enjoying you best friend.
Furthermore, our bandanas are specifically designed for dogs, small, and large. Choose either a 22" by 22" square bandana, if you like the feel of a folded triangle. The extra layer of fabric, be it cotton or polyester, keeps your pet warm when winter winds blow. OR select our 30" by 20" triangle, for a lighter weight bandana. Perfect for smaller dogs, and summertime wear.
Make a bandana your pet's everyday collar! Many dogs, especially smaller breeds, don't like the weight and feel of a thick collar. A collar burdened with a metal ID tag, the mandatory dog license, and a vaccination tag, all clanking with every step. The answer is the chip. Smaller than a grain of rice, microchip identification returns thousands of lost pets to their owners every day. The well-trained—and well behaved—dog can walk without a leash, so why wear a collar? Instead, dress your little buddy in a colorful bandana, one that matches your outfit of the day.
How to fold a bandana for your pet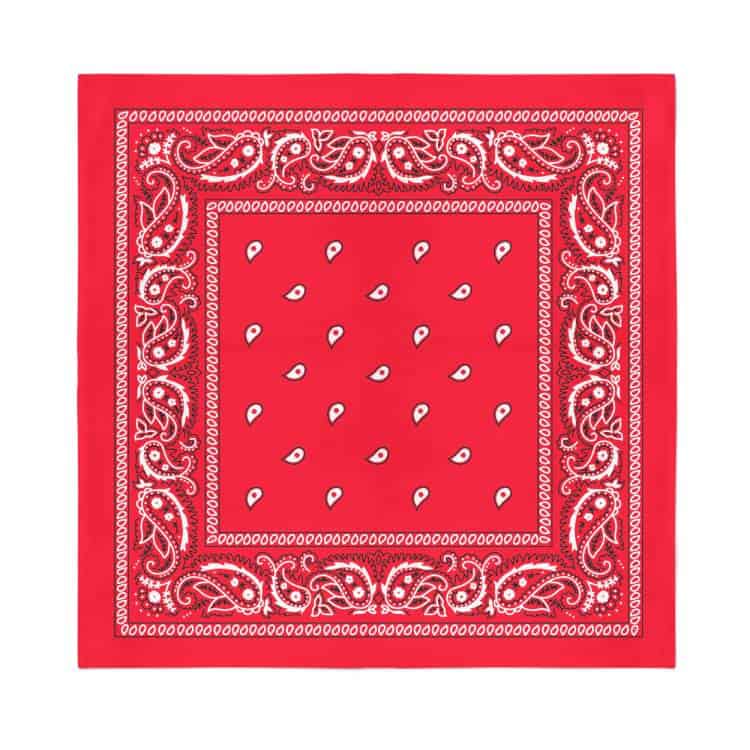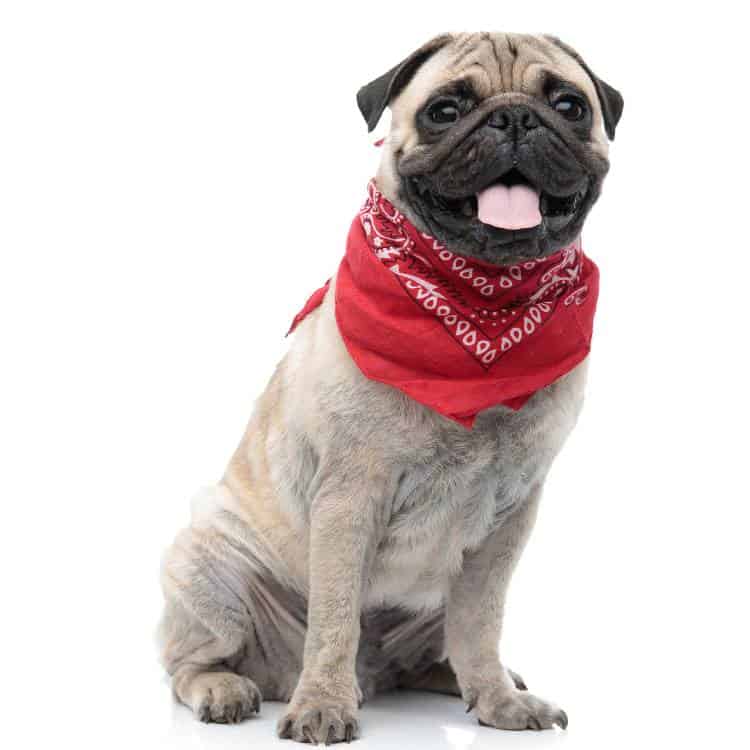 We mentioned two different ways how to tie a bandana on a dog, the square bandana, and the triangle bandana. Both can be folded into many different looks for your dog. Try some of these:
The Classic Fold, is the Cowboy/Cape style. It begins with either the square bandana, or the triangle. Lay out the square on a flat surface, and bring one corner across to the opposite side. Voila! A triangle. This can now be tied around Fido's neck, with a square knot. If the triangle hangs down in front, it's the Cowboy. Also called the Bib, if your dog is a slobber puss. Move the bandana to the back of her neck, and it is a stylish Cape. Either way, be sure to slip two fingers under the knot, to make sure it is not too tight.
Secondly, there is the Collar fold. You are probably familiar with this method if you wear a bandana as a headband. It's great for keeping the sweat out of your eyes when you exercise. Dogs don't sweat the way we do. They sweat though their paw pads. And they cool down by panting. So we call it the Collar fold. Start with our old friend, the triangle. Fold an inch or two of the triangle, starting either at the wide top, or narrow bottom. Continue folding until you have a long strip. Then tie the two ends together, as before, in a square knot.
An alternative, and a sleek look, if to just roll the ends around the folded fabric, like a snake eating its tail. Friction will hold the collar together, unless there is roughhousing in Fido's future. Collars are for show, and showing off. You and your pooch will be the hit of the dog park when you sport matching bandanas.
Our Dog Bandanas are available in many colors!! Get your pup a dog bandana today in Black, White, Red, Navy Blue, Royal Blue, Green, Grey, Pink, Hot Pink, Orange, Yellow, Purple and more!